(Reproduced from original article in Outlook Business)
The Modi mania pervading the markets is yet to make its way to the corner of the Street that deals with new floats. The Sensex has scaled 6,500 points since last September and 3,500 points since late February to touch 25,228 as on June 10, but the initial public offering (IPO) market continues to remain sluggish. The trend has continued from 2013, which saw only three companies raising Rs 1,283 crore, compared with Rs 6,768 crore raised in 2012. IPOs worth Rs 60,000 crore — including GMR Energy's Rs 1,450-crore issue — have been withdrawn over the last couple of years amid fears of low investor confidence. A look at the Sebi website shows no new draft red herring prospectuses have been filed since April 2014.
However, there is mounting optimism on the Street that the sentiment will change soon, in anticipation of economic reforms by the BJP government. Prime Database founder Prithvi Haldea says, "Secondary markets always lead economic recovery as stocks are traded based on future expectations. Assuming the economy shows signs of an upturn and secondary markets don't behave erratically, IPOs will take off because the appetite among investors is huge. I expect a steady stream of IPOs in three to four months."
While observers believe infrastructure, real estate and power companies will experience difficulty in raising money, e-commerce, consumer goods and fast-moving consumer goods (FMCG) companies are expected to hit the IPO market. Haldea also expects a bunch of public sector units to be divested in the coming months.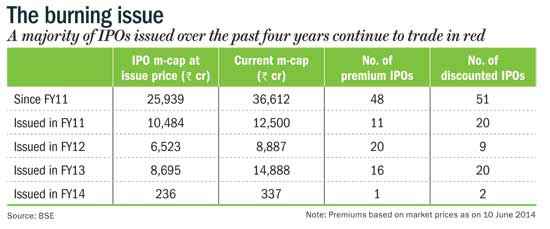 However, follow-on public offers or IPOs won't be the only route companies will take. Listed companies are raising money through optionally fully convertible debentures or the qualified institutional placement (QIP) route. Close to Rs 15,180 crore has been raised through various equity instruments in FY14 already, compared with Rs 26,260 crore in FY13. Several large-cap QIP issues are in the pipeline such as Larsen & Toubro and Reliance Communications.
Sebi has introduced several measures to attract hesitant retail investors to IPOs, including an e-IPO mechanism whereby an investor can apply online. But Sebi's attempts to woo retail investors might not work, considering that many continue to lose money in new listings. Nearly 51 issues that have hit the market since FY11 are trading at discounts to their issue prices, while only 32 issues are trading at a premium of over 50%.
That's a telling commentary on the exorbitant pricing of some offerings relative to their fundamentals. In fact, the biggest float of 2014, steel company Loha Ispat, managed to garner only 20% of its total offer of Rs 214 crore, while Wonderla Holidays was subscribed a whopping 38.06 times its offer value of Rs 181 crore, riding on leveraged HNI investments. "Buyers are waiting for the right price, right company and right environment before investing," says Haldea.
Find original article here: http://www.outlookbusiness.com/article_v3.aspx?artid=291137